15.12.2015 Director of Sugar Blues on Czech Radio
This morning, Czech Radio Radiožurnál hosted the director, Andrea Culková. Does her name sound familiar? Sure! The documentarian will be the guest of our tomorrow's (December 16, 2015) evening screening where she will present her controversial film, Sugar Blues. Visitors will have the opportunity to ask questions at the following Q&A session.
The event starts at 5:00 PM in the Edison Hall of the Dukla Cinema.
We are looking forward to seeing you there!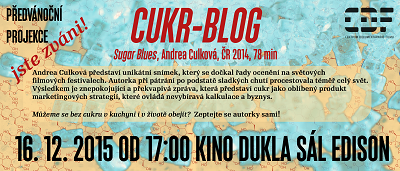 Listen to the full session of Czech Radio Radiožurnál's programme including listeners' questions HERE.
back to list