07.12.2015 Last class and screening in 2015
The Christmas is nearing and the month of December is often filled with stress and hurry. However, it is also a peak season for educational projects and public screenings that keep the whole CDF busy.
Next week, on December 14, you can look forward to one of our most popular one-off lectures Advertising as a Tool, Media as a Means.
On the following day (December 15), we will welcome you at a lecture on Film Law presented by prominent Czech specialist Ivan David.
CDF's educational programme for 2015 will topped off a day later (December 16) with a final part of the series of lectures called Documentary Filmmaking Methods with the lecturer Andrea Slováková.
A couple of hours later on the same day (December 16), you can join a public screening of Sugar Blues, a film targeting the risks and harmful effects of sugar, followed by a Q&A with the film's author, Andrea Culková.
We cordially invite you to visit our lectures and screenings, we have still free places!
We are looking forward to welcoming you at CDF!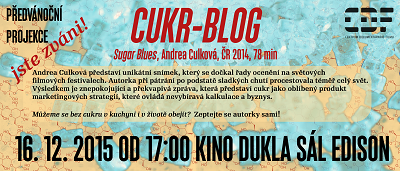 back to list