24.02.2015 WHAT IS NEW?
With the spring approaching, we are also working away on beginning the new season.
We are putting together a program for educational lectures and screenings to be held in March and April, we are filling the library with new publications and fine-tuning the linked online search of books as well as films.
Soon, you will be able to look forward to short annotations of the most enticing titles our library shelves have to offer. We will be thrilled if you as an individual, or part of a group, will be interested in attending one of our educational lectures. Although the cycles are primarily created for students, we are opening the doors to the general public.
Also, we are sending out registration cards for printing, so please do not hesitate to come get one for yourself. We believe it will only bring a lot of joy into your life. We will let you know as soon as the cards come back from the print shop.
Think through documentary film!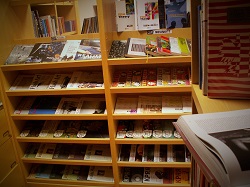 If you have any questions concerning the way the CDF runs, do not hesitate to contact us: cdf@c-d-f.cz, 774 101 686
back to list