27.10. Ji.hlava for Kids – Saturday programme
Ji.hlava for Kids makes the festival accessible to the youngest audience of Ji.hlava IDFF offering an exquisite selection of educational, entertaining and creative activities for children themselves or accompanied by parents. Kids aged 3 to 14 can enjoy a rich and varied programme each day from 9 AM to 7:30 PM childrens play area, mobile planetarium, arts workshops for smallest kids, workshops for older, regular workshops, theatre and music performances and film screenings.
The entire programme will take place in one building of the Vysočina Regional Gallery on Masaryk Square 24. Following one programme feature, children can join another activity or just rest and watch a screening or play in the children's zone. And while your children will be having fun during their creative work or educational activities, you can visit one of the festival film screenings. After lunch break, the programme continues from 2 PM as a cocktail of various activities, while you can have a cup of coffee in the Paseka Café directly in the middle of the festival action.
Ji.hlava for kids is free of charge for both accredited and non-accredited visitors. Each kid that wants to take part in any of the programme features will obtain a free festival pass. Artistic and other workshops have a limited capacity and require prior registration, other activities can be joined without registration.
Saturday programme
ERNESTÝNKA. ŽIVOT JE LABYRINT
9.30 am, main auditorium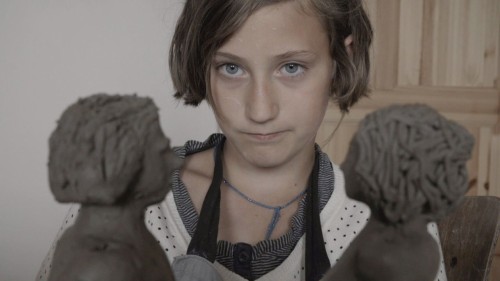 Ernestýnka. Život je labyrint, díl z minidokumentární série o mladých dívkách se zajímavým posláním, koníčkem či osudem. Ernestýnce je dvanáct a vyrůstá ve střídavé péči svých rodičů. Není v tom sama, střídání domovů s ní absolvuje také její osmiletý bratr Adrian. Rozhodla se navštívit psychoterapeutku a zahrát svým spolužákům divadlo, aby jí lépe pochopili a snad i víc vzali mezi sebe. Ernestýnka miluje snění, vodu, stromy a víly. Toho všeho by se ale klidně vzdala, kdyby jí to pomohlo k nalezení lepší cesty k ostatním i k sobě samotné. Podaří se jí to někdy? Režie Theodora Remundová, ČR 2017, 14 min.
Camera obscura
10 am - 12 pm / 3 – 5 pm, dílna 2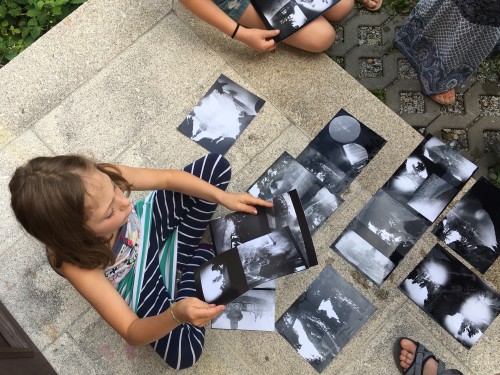 Did you ever take a photo with an empty tin box or a can of coke? Bring one with you and we'll make it into a camera obscura. Then we'll capture snapshots of festival life and – in the darkroom – we'll experience the magic of the photographic image's appearance. Don't forget: bring two closable boxes or cans.
In 2004, Gabriela Kolčavová graduated with a degree in Photography from University of North Texas. She works mostly with black & white photography, using standard or historical techniques.
The Jester and the Dragon, a.k.a. The Disgusting Princess, a.k.a. How Franta Finally Got What he Wanted
14.00–15.00, sál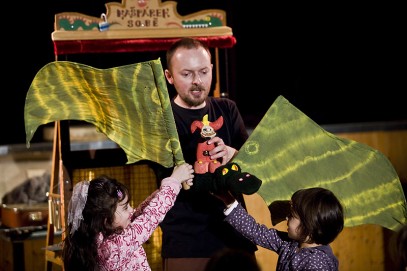 The story of how the jester made a fool of everyone, about everything Franta messed up, and also about how not everything that shines is a knight in shining armor.
De Facto Mimo theater is an independent Jihlava company that considers itself semi-professional, because it attempts to make professional theater in amateur conditions.
The Kingdom
5 pm, main auditorium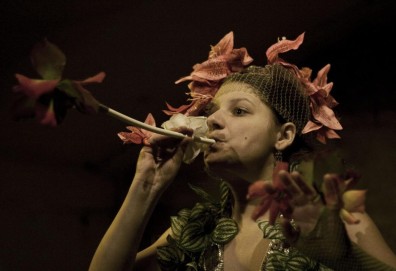 A flower musical not only for children. A drop of dew handed out on a cube of summer and the midnight whisper of the red poppies. Ema on the trail of nature's secrets. Spring's first buttercup guards the Gate to the North. A fairy-tale cabaret with creative songs and lightning costume changes.
The Anička a letadýlko theatre company offers a new vision of the future. Smells, music, flowers and indigo tablets. Connect to the cosmos and take off. Expect a downpour and an inflow of refreshing umbrellas. Anička Duchaňová and all the regular and occasional members of the crew will take good care of you.
Play area
9 am - 7 pm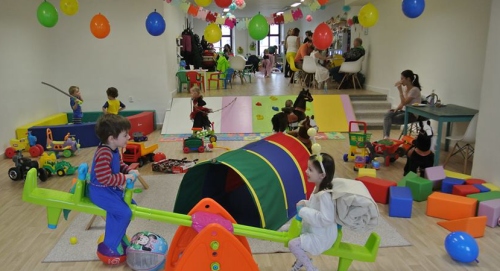 Wood lego and an interactive game from the Robinson fun park, plush toys, board games and bean bags for lounging, as well as supervised play time!

Paseka café
9 am - 7:30 pm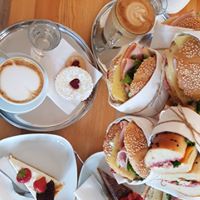 Cold and warm refreshments for all ages, all day. Open-face sandwiches, home-made lemonades, coffee, tea and chocolate from Lukáš Hejlík's Gastromap – Paseka café. Open daily from 9 am to 7:30 pm.
What headwear?
10 am - 12 pm, dílna 1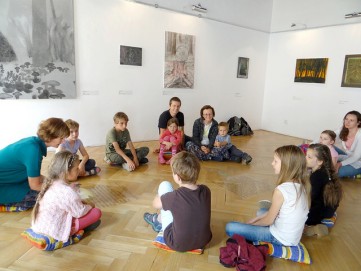 What should you wear on your head in Ji.hlava? Do speech bubbles hang in the air above it, with images from films, bits of stories, wishes? Or is it topped by a colorful cap? With or without pom-poms hanging over the ears? And what's between the ears, anyway?
Ethnologist Pavlína Pitrová works as a teacher at the Regional Gallery of Vysočina in Jihlava. She focuses on the connection between art and history, applying school's educational methods.
Mobile planetarium
10:30 am - 1:30 pm / 3 - 4:30 pm, entrance hall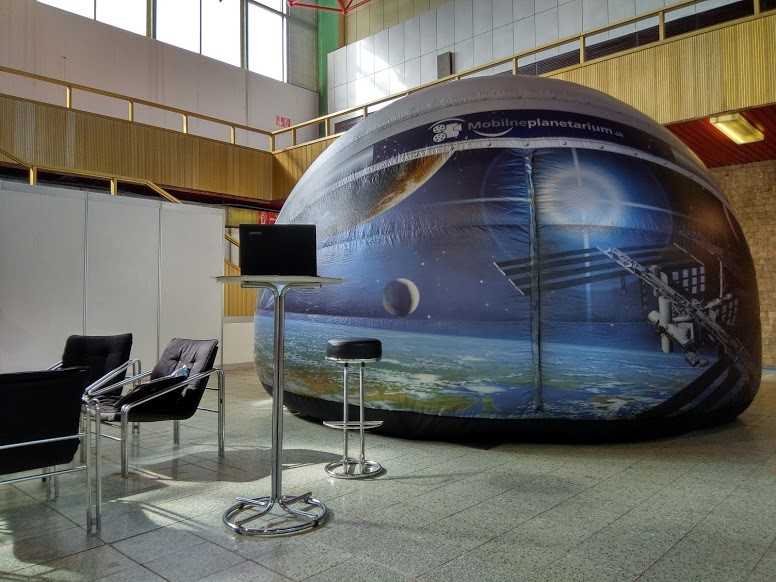 Films from the fields of astronomy and natural sciences. Unconventional screenings of educational films, especially about stars and space, on the planetarium's cupola. The mobile planetarium is a digital apparatus, thanks to which festivalgoers can learn, for instance, about the submarine world, flights into outer space or the landscapes of Mars.

What's in the head?

3 - 5 pm, dílna 1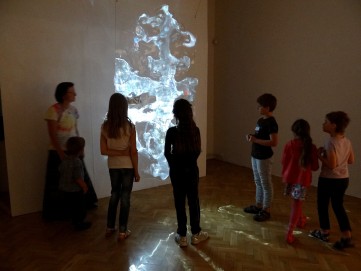 The "Co je v hlavě" workshop will introduce young visitors to the permanent exhibitions of the Regional Gallery in Jihlava. They will try to understand what the pictured characters are thinking about, what makes them happy and what makes them sad. And if they don't work out what's in their heads, at least they'll observe what's on their heads.
Ethnologist Pavlína Pitrová works as a teacher at the Regional Gallery of Vysočina in Jihlava. She focuses on the connection between art and history, applying school educational methods.

Bedtime stories
7 pm, main auditorium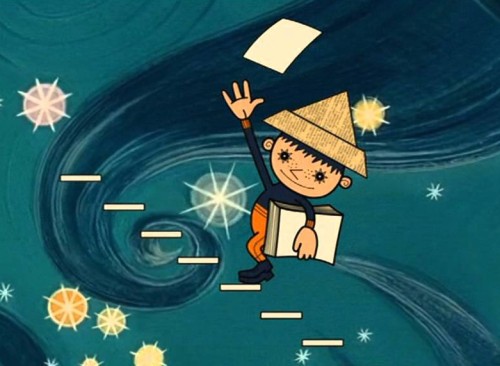 Favourite bedtime story series: The BEST of classics, the BEST of new stories, A Tribute to Zdeněk Smetana, A Tribute to Adolf Born, It Smells Like Fish Here...
Ongoing Czech Television :D workshop
9 am - 7 pm, café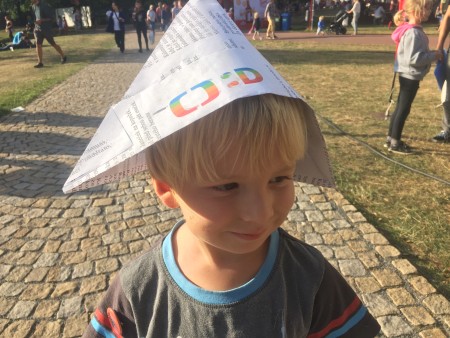 The ongoing workshop offers every day an opportunity for those who haven't signed for any such workshop to engage in a creative activity. Do you know how to make a hat out of paper? Do you know what a praxinoscope is – and how to use it? Or do you simply feel like painting something?
back to list